A water leak detector is a device used to detect water leaks or flooding and is commonly used in waterproofing and security applications such as domestic, commercial, and industrial environments. When choosing a water leak detector, there are some key factors to consider to ensure that the device you choose is suitable for your needs and environment. Here are some key points to consider when choosing a water leak detector.
Types
There are two main types of water leak detectors: point and continuous. Point water leak detectors detect moisture in a specific area and are suitable for limited locations, such as underneath a washing machine or at a plumbing fitting. Continuous water leak detectors cover a larger area and are suitable for floors, walls, or ceilings.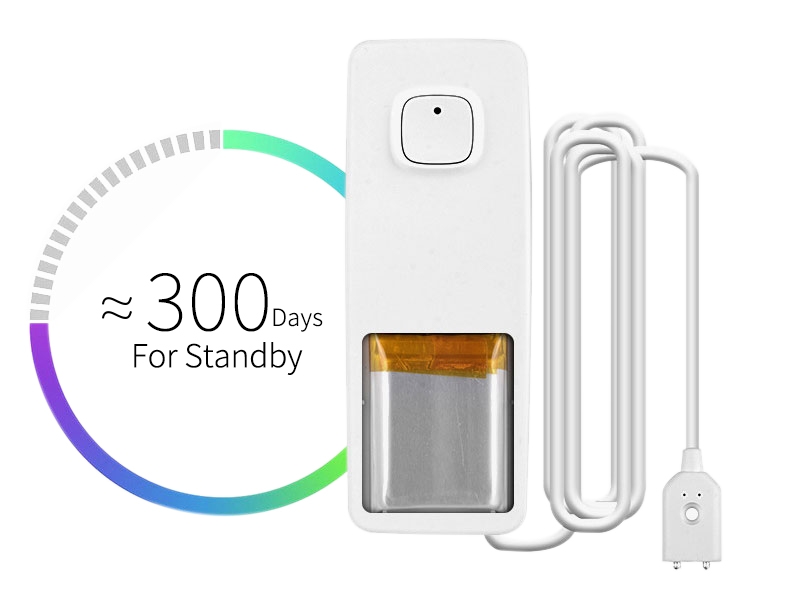 Detection Technology
Common water leak detection technologies include capacitive, resistive, acoustic sensing, and absorptive. Each technology has its advantages and disadvantages. For example, a capacitive is suitable for detecting liquid contact, while acoustic sensing can detect the sound of dripping water.
Alerting Methods
The water leak detector can be alerted by audible alarms, LED indicators, cell phone notifications, or text messages. Choose the alarm method that suits your needs to ensure that if a leak occurs, the leak detector detects water, and notifies you in a timely manner.
Aspects to Consider
Installation and Use: Choose a water leak detector that is easy to install and use. Some devices may require professional installation, while others may simply need to be placed on the floor.
Power: Consider the source of power for the water leak detector. Some devices use batteries, while others may need to be connected to an electrical outlet. Make sure your choice applies to your situation.
Smart features: Some water leak detectors have smart features, such as integration with smart home systems and remote monitoring and control. If you want remote monitoring and control, consider devices with these features.
Price: Choose the right water leak detector based on your budget. Prices may vary depending on factors such as brand, features, and technology.
Durability and Quality: Choose brands and the water leak detector products that are reliable and durable to ensure stability and performance over time.
Size and Appearance: Choose the right size and design water leak detector for your installation location and appearance needs.
User Reviews and Feedback: Reading reviews and feedback from other users to understand the advantages and disadvantages of different brands and models of water leak detectors can help make a more informed choice.
Ultimately, choosing the right water leak detector for your needs and budget requires a combination of the above factors. If you are not sure which type of water leakage detector is most suitable for you, sisco online store can provide you with professional guidance service and different models and functions of high-quality water leak detectors, such as home water leak detectors, water leak detectors with wifi function and other products for you to choose, if you are interested in our products, welcome to click and buy.