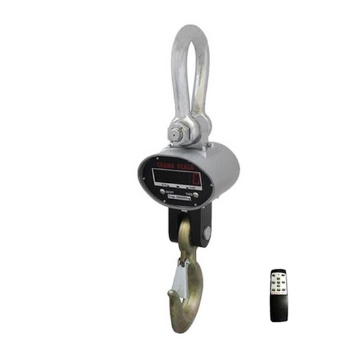 Digital crane scale has a 5 digits red LED display with optional weighing units kg/lbs, which has a high capacity of 30000kg (30 ton) / 50000kg (50 ton), accuracy standard OIML class III, and battery continuous operation time of 100 hours. Due to the simplicity of operation, just hang the stuff to the hook, then read the numbers. Crane scale features Tare, zero, auto zero tracking, total, hold, overload warning and record, low battery alarm, automatic power off, and infrared remote control calibration functions.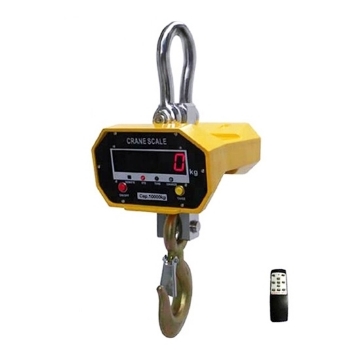 SISCO crane scale has capacity from 2000kg (2 ton)/ 3000kg (3 ton)/ 5000kg (5 ton)/ 10000kg (10 ton) to 20000kg (20 ton), Crane scale is equipped with a large LED display with white backlight, the huge black numbers are visual over 10 meters. The continuous operation time of the rechargeable battery is 50 hours at least.
Mini crane scale has capacity from 30kg/60kg/150kg/200kg/300kg to 500kg can be chosen, accuracy standard OIML class III, optional weighing units kg/lbs. The electronic crane scale has a mini size handheld crane scale with an S-shape hook, suitable for farming, hunting, fish weight, travel, and more indoor and outdoor activities.
The SISCO crane scale is a hook scale that is used for weighing the goods needed to be loaded/ unloaded/ transferred. It is usually installed under the crane or lifting equipment. A crane scale consists of a high-strength hook, shackle, display controller, load cell, metal casings, front and back covers, and protection board. Crane scale has a special wireless infrared remote controller, and also can be connected to a large wireless screen for convenient reading.
Because of the advantages of multi-functions, high precision, strong anti-cheating ability and low maintenance cost of crane scales, now crane scale has been widely used for logistic/ warehouse/ factory/ dock/ trading market OCS (online charging system). The crane scales with a capacity higher than 30 ton are used for material delivery in metallurgy, railway, industrial and mining companies.